Stroudsburg, PA – This year, four local businesses started a cause marketing campaign called "$0.80 for 80 years" to celebrate United Way serving in Monroe County since 1942 and have raised over $8,000 in donations. Barley Creek Brewing Company, The Frogtown Chophouse, ShawneeCraft Brewing Company, and Sonia's Sweet Inspirations each offered a menu item that donated 80 cents of that sale to Pocono Mountains United Way (PMUW) to benefit community programs.
These campaigns will continue until the end of 2022, and Pocono Mountains United Way is looking to expand the campaign with more local businesses in 2023.
Customers can now support local businesses and support PMUW when ordering a specific menu item from participating businesses. All proceeds go to help Pocono Mountains United Way's mission to promote good healthcare, quality education, and financial mobility.
"It's a donation piece but it is also the community working together to raise money," said The Frogtown Chophouse co-owner Eric Noone.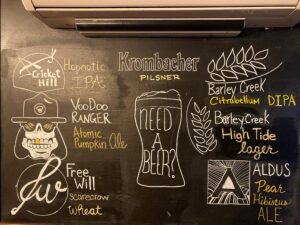 Barley Creek and The Frogtown Chophouse collaborated with their campaigns, and the partnership has been very successful with crab cakes and beer selling like hotcakes.
"This, I think, was a really interesting restaurant solution for coming up with a workplace campaign for United Way," said Barley Creek owner Trip Ruvane.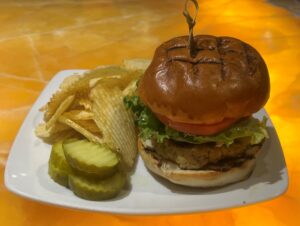 Barley Creek has been selling Frogtown's crabcakes, while Frogtown has offered Barley Creek beer on two of the draft lines at the restaurant. Over 2,000 crab cakes have been sold at Barley Creek since August, and a similar number of pints have been sold at The Frogtown Chophouse.
"I think it's a neat platform," said Ruvane. "I think we have put a couple of bricks in the road. The program is there, now let's build on it."
ShawneeCraft Brewing Company also offered proceeds from beer sales as part of the cause marketing campaign and even went as far as creating a specialty beer.
"We actually brewed a specific beer. It was an ESB, so extra special bitter," said Michael Albert, COO at ShawneeCraft Brewing Company. "It came out great, and we specifically brewed this beer for United Way and we called it 'Cheers to 80 Years'. We donated 80 cents of every pint sold to United Way, and we actually rounded up of course."
Cheers to 80 Years was such a popular beer, that all the kegs are empty and only a few cases of canned beer remain. It is only sold at The ShawneeCraft Taproom currently. There are talks of continuing the campaign in 2023 as well.
"I love doing a community brew because it is very specific and very fun," said Albert. "It engages not just the employees but the customers as well. We are trying to be an establishment that is engaged in our community and doing things to better our community so this is one way that we can give back."
This mentality aligns right along with another local brewery, Barley Creek.
"Support your local brewer and your local brewer will support the community," said Ruvane.
Cause marketing campaigns are a creative way for businesses to get involved with Pocono Mountains United Way if they are unable to participate in workplace campaigns through payroll deductions. It raises awareness for local causes and can generate sales from generous customers looking to try something new.
"You've got to do something, so might as well do good," said Carl Tirella of Sonia's Sweet Inspirations.
The award-winning bakery is donating $0.80 of every dozen cupcakes sold to Pocono Mountains United Way, and Sonia's has been selling nearly 100 orders of a dozen cupcakes per month.
Sonia's Sweet Inspirations' relationship with PMUW began 12 years ago at the Pocono Cupcake Challenge and the business has supported numerous events and campaigns.
As 2022 and Pocono Mountains United Way's 80th-year start to wrap up, the campaign continues to grow and expand as we look ahead to 2023. Barley Creek and The Frogtown Chophouse look to continue their collaboration. It has even inspired another pair of businesses to partner for the campaign.
"We saw that Barley Creek and Frogtown Chophouse had a cause marketing promotion going on and we actually got the idea from them," said Danielle Clark, General Manager at Mountain View Vineyard. "Then we started thinking of whom we would want to work with and what product we believe in so that we could do a similar thing."
Mountain View Vineyard and Silverback Distillery are starting their campaigns this week and will donate 10% off select items to PMUW. In fact, Mountain View Vineyard will be selling a specialty cocktail with Silverback Distillery spirits, and Silverback will offer a few wine options from Mountain View.
"Mountain View reached out to us about finding a whiskey to add to their menu for a specialty cocktail and we seemed like a good fit," said Ryan Blackwell, General Manager at Silverback Distillery. "When they reached out they brought up the idea of giving back to Pocono Mountains United Way through sales, and we are going to be selling some of their wines as well."
The 10% donation from each sale will equate to roughly a dollar per drink.
"We will have that drink on our new winter cocktail list next week and will keep it there throughout the winter season," said Clark.
Mountain View Vineyard is crafting a specialty cocktail with a honey rye whiskey to create a dirty chai latte cocktail drink. Meanwhile, Silverback Distillery will offer a few different kinds of wine from Mountain View Vineyard. When asked about the collaboration, Blackwell said he is a firm believer in small businesses working together to provide great experiences for customers in the Poconos.
"For me, it is mostly about working with other local businesses in a similar category as us. Personally, I'm a big believer in the saying a rising tide lifts all boats," Blackwell said.
In 2022, over $8,000 has been raised through the $0.80 for 80 Years cause marketing campaign. In 2023, Pocono Mountains United Way looks to keep collaborating with more local businesses throughout Monroe County.
If you are a business looking to sign up and be a part of this cause marketing campaign, contact Todd Nemura at Todd@PoconoUnitedWay.org.